1440E - Cascina Cà Bella - San Sebastiano Curone (Alessandria)
Piemonte
Farmhouse in Piedmont with rooms, restaurant, playground and riding stables. Beautiful farm in San Sebastiano Curone near Alessandria with animals. Ideal for excursions and fit for families with children.


Rooms - Restaurant - Riding Stables - Monferrato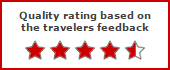 Frazione Cà Bella, 1 - 15056 - San Sebastiano Curone (Alessandria)
The farmhouse
The farmhouse "Cascina Ca' Bella" is in the countryside that surrounds San Sebastiano Curone, in the heart of the province of Alessandria. We are in Piemonte, in a farm that is involved in livestock and production of dairy and cured meats. The internal and external places are well maintained, the garden, equipped with playground, is the ideal place where children can play safely. At your disposal a kitchen, a spacious breakfast hall, a terrace and a garden with equipped portico. The stay includes buffet breakfast, half board or full board, car park and Wi-Fi connection. Moreover, we advise our guests the most interesting folkloristic events and we organize guided excursions in the wineries of the Val Curone.
The Restaurant
Our restaurant, set in an old farmstead, has two rooms, respectively of 60 and 30 seats, totally independent and equipped with coatroom. The cuisine offers the products of our farm or zero kilometres products, in order to guarantee quality and genuineness. On reservation you can organize events, parties, ceremonies or particular lunches and dinners. We offer also a rustic hall dating back to 1600, used for assemblies, private dinners or wine and food tasting.
Photogallery
The riding stables
The stable has 20 luxury stalls with a wide window and straw bedding, spacious paddocks, sand fields for training (40 x 20 mt) and for dressage (70 x 35 mt). The feeding of the horse is based on the hay produced in our territory, while the washing, both internal and external, is with hot water. At your disposal also a tack room with personal cabinet and trapping. We can host your horses for brief stays at 20 € every day including stall, hay, 3 kg of feed, free use of washing and tack room, training fields and trailer park. For the owners of the horses we can even organize horseback rides along the various trails of the territory.
Surroundings
The farmhouse is in San Sebastiano Curone near Alessandria, in a region of verdant nature, between green hills and wonderful landscapes. We are in Piemonte, an ideal region for wine and food, art and sport. Tortona, Ovada, Acqui Terme, Bobbio and Alessandria (about 45 km from San Sebastiano Curone) are some of the most interesting towns you can reach starting from the farm. Sport lovers can exploit the agreement with a golf club or they can spend time in outdoor activities as hunting, fishing, trekking and mountain bike. We have also agreements with spas, swimming pools and water parks.
Rooms
The farmhouse has rooms equipped with internal thermostat that allows to change the temperature depending on your needs. All the accommodations have a TV LCD and free Wi-Fi connection. The main building is composed by 8 rooms and a comfortable suite. The suite is located in the little tower and it offers a wonderful panoramic view on the surrounding landscape. Our guest can also sojourn in a dependence where there is a mini-apartment with two rooms, equipped for handicapped people. The check-in is at 16.00 while check-out is at 11.00.
Rooms Photogallery
Prices
Prices depends on season and requested services.
To contact us fill out the information request form.

Contacts and Information
- To ask for availability and prices fill out the form below.
- In the "Message" field write your request and if you have children specify their age.
- You will receive an e-mail with all information, prices and our contacts.
Fill out this form to ask for availability and prices. Thank's!
Conditions and Warranties on the Service